Arbiter is a support champion from high Elves faction. He should be very fast so that can give buffs to ally and reduce enemies turn meter.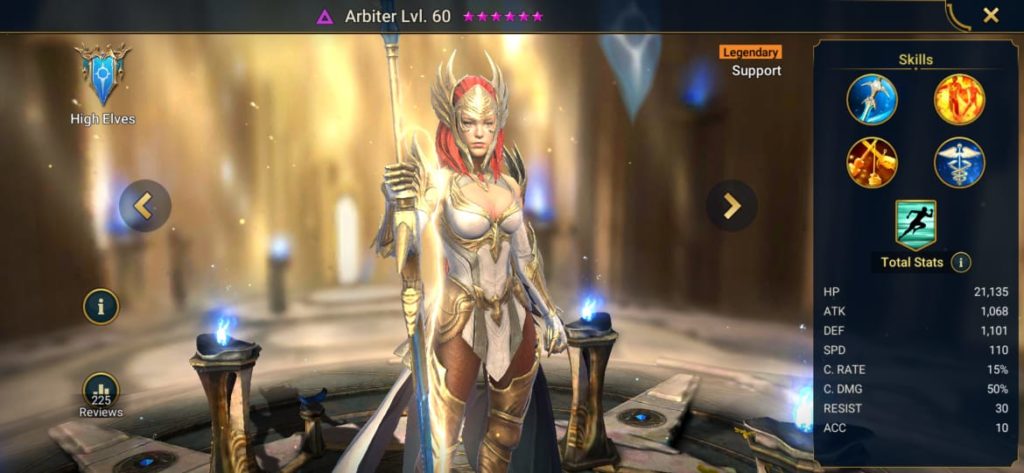 Overview
FACTION: High Elves
RARITY: Legendary
AFFINITY: Void
ROLE: Support
Raid Shadow Legends Arbiter Skills
Leadership Aura Skill –Increases Ally SPD in the Arena by 30%.
Skill 1 –Gaze of Justice [ATK]
Attacks 1 enemy 2 times. Each hit has a 30% chance of placing a 25% [Weaken] debuff for 2 turns.
Level 2: Damage +10%
Level 3: Buff/Debuff Chance +10%
Level 4: Buff/Debuff Chance +10%
Skill 2 – Enforced Humility [ATK] (CD: 4 turns)
Attacks all enemies 1 time. Has a 75% chance of decreasing the duration of all enemy buffs by 1 turn.
Level 2: Damage +10%
Level 3: Buff/Debuff Chance +10%
Level 4: Buff/Debuff Chance +15%
Skill 3 -Mentor of Heroes (CD: 4 turns)
Fills the Turn Meters of all allies by 30% and places a 50% [Increase ATK] buff on all allies for 2 turns. Heals all allies by 25% of their MAX HP if they have less than 50% HP.
Level 2: Cooldown -1
Skill 4 -Destiny's Call (CD: 7 turns)
Revives all dead allies to 35% HP, then fills the Turn Meters of all allies by 20%.
Grants an Extra Turn to this Champion if an ally was successfully revived.
Level 2: Cooldown -1
Level 3: Cooldown -1
Raid Shadow Legends Arbiter Artifacts Guide
Option 1 – 2 Set SPD  + 1 Set of Life
Boot –SPD
Chestplate – HP%
Gaunlet – HP%
Substat – Focus on HP, SPD
Raid Shadow Legends Arbiter Masteries Guide