Conquerer is an attack champion that is very helpful against a team which has a revive champion. Since he a spirit champion, can be very good at ice golem's peak.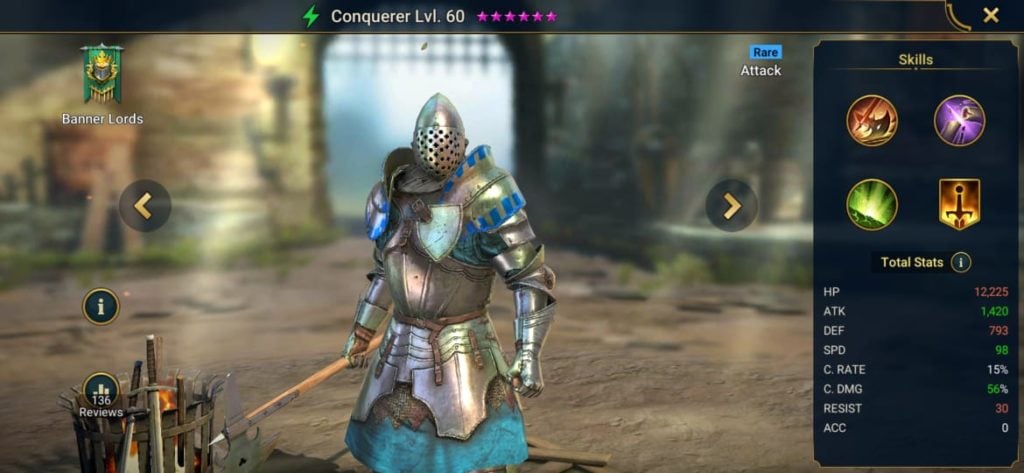 Overview
FACTION: Banner Lords
RARITY: Rare
AFFINITY: Spirit
ROLE: Attack
Raid Shadow Legends Conquerer Skills
Leadership Aura Skill –Increases Ally ATK in all Battles by 18%.
Skill 1 –Swift Blow [ATK]
Attacks 1 enemy 2 times.
Level 2: Damage +5%
Level 3: Damage +5%
Level 4: Damage +5%
Level 5: Damage +5%
Skill 2 – Cut Down To Size [ATK] (CD: 4 turns)
Attacks 1 enemy. Removes 2 random buffs from the target.
Level 2: Damage +5%
Level 3: Damage +5%
Level 4: Cooldown -1
Level 5: Cooldown -1
Skill 3 – Pure[ATK] (CD: 5 turns)
Attacks 1 enemy. Enemies killed by this skill cannot be revived.
Level 2: Damage +5%
Level 3: Damage +5%
Level 4: Cooldown -1
Level 5: Damage +5%
Level 6: Damage +10%
Level 7: Cooldown -1
Raid Shadow Legends Conquerer Artifacts Build
Option 1 – 2 Set Offence + 1 Set of Crit
Boot – SPD/ATK%
Chestplate – ATK%
Gaunlet – CR%
Substat – Focus on SPD, CR, CRD
Raid Shadow Legends Conquerer Masteries Guide