Kallia is an attack epic champion. Make sure to take Atur in your team so that his passive healing skill keep on self-healing while he do the damage.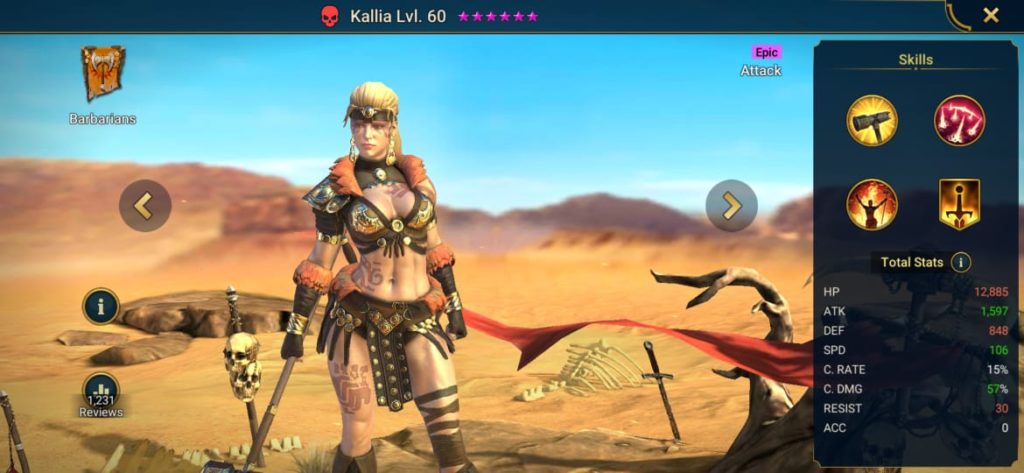 Overview
FACTION: Barbarians
RARITY: Epic
AFFINITY: Force
ROLE: Attack
Raid Shadow Legends Kallia Skills
Leadership Aura Skill –Increases Ally ATK in all Battles by 25%.
Skill 1 –Superheated Hammer [ATK]
Attacks 1 enemy. Has a 30% chance of placing a [HP Burn] debuff for 2 turns. [Heals this Champion by 30% of the damage inflicted when Atur is on the same team] Level 2: Damage +5%
Level 3: Damage +5%
Level 4: Damage +10%
Level 5: Buff/Debuff Chance +10%
Skill 2 – Curse of Nullity [ATK] (CD: 4 turns)
Attacks all enemies. Has a 50% chance of placing a 100% [Heal Reduction] debuff for 2 turns. [Heals this Champion by 10% of the damage inflicted when Atur is on the same team] Level 2: Damage +5%
Level 3: Damage +5%
Level 4: Buff/Debuff Chance +10%
Level 5: Buff/Debuff Chance +15%
Level 6: Cooldown -1
Skill 3 – Flame Tempest [ATK] (CD: 5 turns)
Attacks 3 times at random. Each hit has a 60% chance of placing a [HP Burn] debuff for 2 turns. [Heals this Champion by 15% of the damage inflicted when Atur is on the same team] Level 2: Damage +5%
Level 3: Damage +5%
Level 4: Damage +10%
Level 5: Cooldown -1
Raid Shadow Legends Kallia Artifacts Build
Option 1 – 2 Set Offence + 1 Set of Crit 
Boot – SPD%
Chestplate – ATK%
Gaunlet – CR%
Substat – Focus on ATK, CR, CRD
Raid Shadow Legends Kallia Masteries Guide